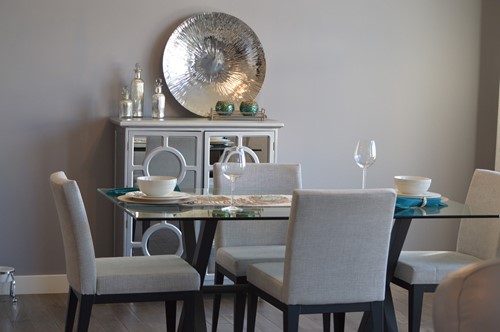 Image by ErikaWittlieb from Pixabay

Your dining room might serve as your main eating area, or you might just use it on special occasions, such as holiday gatherings. Whether you get a lot or just a little use out of your dining room, it's important to make sure this space looks its best. If you're thinking of ways to spruce up your dining room, keep these design tips in mind.
Table Shape
While rectangular tables are common in dining rooms, they're not your only option. For a smaller dining room, you can choose a square table. This works well if you don't usually have more than a few people at your dining room table.
To improve the flow of the room, consider choosing a round table. Round dining room tables work best in open dining rooms that lead to other rooms or areas, rather than in closed-off dining rooms. These tables can make it easier for people to get from one area to the next without having to avoid sharp table corners or edges.
Chair and Table Heights
This is an easy design factor to overlook, but it's important to make sure chair and table heights offer comfortable seating. You might not have this problem if you're purchasing a set of table and chairs. However, this can be an issue if you're considering mixing and matching a table and chairs, such as a vintage table with more modern chairs. Your dining room chairs should be high enough while still leaving plenty of space for people to sit comfortably at the table.
Area Rugs
Area rugs can help define your dining room space. Consider placing a large area rug under your table and chairs. Just make sure your area rug is the right size for the room. Area rugs in dining rooms should be a couple of feet wider than your dining room table on each side. An area rug that's too small can seem out of place. Choose a rug that complements the rest of your dining room design in terms of color, or consider an area rug with a bold pattern to liven up an otherwise neutral dining room.
Lighting Fixtures
Your dining room should provide the right amount of lighting that's not overly harsh or too dim. Choose a pendant light to go over your dining room table for a classic and elegant look. Ideally, your pendant light fixture should have a dimmer switch, so you can adjust how bright the room is. Depending on the layout and size of your dining room, you might not need any other lighting. However, you might consider wall sconces if you have a larger dining room or if your pendant fixture doesn't have adjustable lighting. Wall sconces can add softer lighting to your dining room if needed. These light fixtures can also add illumination to dining rooms that don't have windows.
Colors and Textures
Different color and texture combinations can add visual appeal to your dining room. In addition to an area rug, you can also experiment with different color and texture combinations with accent pieces, chair upholstery and window treatments. For example, you might pair bamboo blinds with an earth-toned area rug and reclaimed wood accent pieces. You can try a variety of color and texture combinations to get the exact look you want for your dining room.