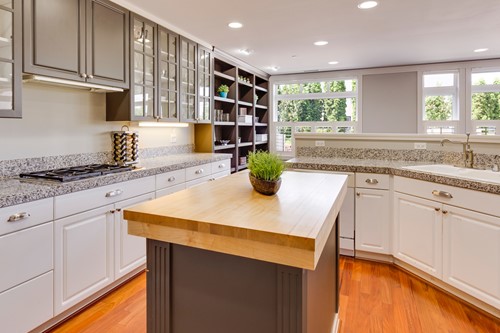 Many of today's building materials are eco-friendly as well as attractive. If you're interested in building a green home or upgrading your existing home to include more eco-friendly materials, take a look at these non-conventional choices in countertops. They're planet-friendly options that also function beautifully and can easily last the lifetime of your home.
Bamboo Butcher Block
Butcher block countertops are always an attractive choice. But when they're crafted from bamboo - a highly sustainable plant that's nearly as durable as hardwoods like cherry, maple or oak - they become eco-friendly as well. Bamboo grows at an accelerated rate, making it an ethical choice of building material. Bamboo is a great choice for both floors and countertops for several reasons including:
Bamboo is affordable.

This wood is naturally water-resistant.

Bamboo has anti-bacterial properties.

It's highly durable.

Bamboo can be easily sanded, stained and refinished.
For gorgeous countertops that require minimal care and maintenance, bamboo is an economical alternative to quartz or granite.
Recycled Glass
If you like the sleek look of granite but not the open-pit method of mining required to produce it, recycled glass countertops are a perfect second choice.
Featuring tons of sparkle and light, recycled glass countertops are made from beer, soda and liquor bottles as well as from auto glass. Though these countertops use concrete and epoxy resins in their manufacture, they eliminate tons of waste from American landfills. Recycled glass countertops may stretch your budget, however, because they can be pricey. They're also heavy to move and to install which could increase the costs of labor. If you want to a make an eco-friendly statement in your kitchen recycled glass countertops will do it beautifully.
Recycled Paper
Even paper can be recycled into eye-catching countertops. Countertops made from recycled paper are heat- and moisture-resistant which makes them a prime choice for kitchens and baths. They're also easy to sand and refinish just like butcher block.
Recycled paper countertops come in a range of hues that feature an elegant matte finish. They're made mostly from post-consumer paper products and plastic resin which makes them resistant to stains, scratches and scarring. They're also affordable and lightweight, meaning they're easy to transport and install.
Reclaimed Wood
Reclaimed wood is not only environmentally friendly but comes with a rustic look and a history all its own. Reclaimed wood countertops are often made of pine or chestnut and may have been salvaged from barns, rustic log cabins or the floor of an old school house. It's the history of the wood that makes it so inviting. If you choose countertops made from reclaimed wood, you're salvaging a small piece of history all while helping to stop the deforestation of old forests.
Regardless of which green countertop options you choose, you'll love the beauty and longevity they provide. They'll last for decades with the proper maintenance and they can very easily out-perform more traditional countertop options such as marble, granite and quartz. Countertops are an easy upgrade in any space. They're also a great way to up the green factor of your new or existing home.