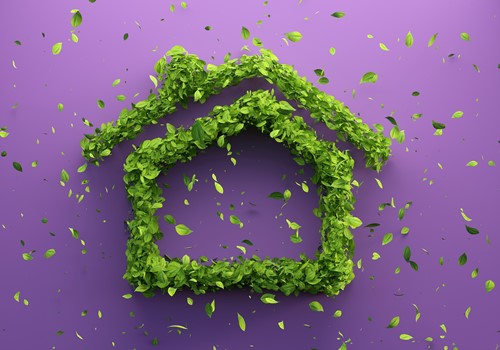 Green living is all the rage, and you can fully immerse yourself in a sustainable lifestyle if you decide to build your own home rather than purchase an existing property. During the planning and design phase, you can work with your builder to incorporate sustainable features into your new construction home. After you move in, you will easily be able to adjust your habits and routines in order to save energy, reduce your carbon footprint and realize cost savings along the way.
Here are a few steps you can take in order to build a sustainable home:
Request that Your Builder Use Sustainable Materials During Construction
One of the best ways to have an impact on your local environment is work with your builder to ensure that sustainable materials are used during the construction of your home. Some examples of sustainable materials include:
Recycled materials for doors, flooring and windows.
Locally-harvested wood for framing and flooring.
Non-toxic and non-allergenic materials that will prevent mold issues in the future.
Make the Most of Solar Energy Opportunities
One of the most important resources that you can take advantage of when you are building a new construction home is the sun. For starters, you can work closely with your builder to ensure that your home maximizes the use of the sun's rays by situating the home in an advantageous location on the lot. When sunlight is allowed to stream directly into the windows, you will spend less money and energy heating your home. In addition, you may want to install solar panels to collect solar energy to power parts of your new home.
Select Energy-Efficient Windows for Your New House
Most people do not realize the important role that windows play in conserving energy and utilizing it efficiently. As you select windows for your new home, be sure to consider your options carefully. While you may pay less initially for lower-quality windows, you will end up paying more in heating and cooling costs while you live in the home. Investing in high-quality, energy-efficient windows will reduce the energy you use in the home while simultaneously saving you money in utility costs.
Opt for Energy-Efficient Appliances and Features
As you finalize the details of your new construction home, consider how every choice you make could have an impact on the sustainability of your property. Low-flow toilets and tubs, for example, can significantly reduce the amount of water that is used on a daily basis. Energy-efficient appliances are also an ideal option for anyone who is looking to adopt a sustainable lifestyle in their new home.
If you know that you want sustainability to be a top priority during the construction of your new home, then you need to find a reputable builder who knows how to incorporate the latest trends into their home designs. An experienced builder with local connections can help you create a home that allows you to enjoy your green lifestyle for years to come.