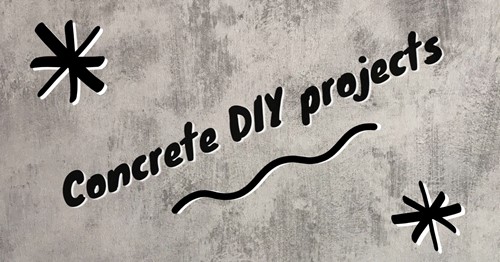 When you think of DIY, concrete is not likely the first thing that comes to mind. However, concrete is surprisingly easy to work with for a wide variety of DIY projects. Whether you want to create purely functional additions to your home or fun, industrial-style decor, there are DIY concrete projects for you.
Here are some great suggestions for concrete projects to try:
DIY concrete coasters
Many homeowners would agree: you can never have too many drink coasters. A custom set of concrete coasters also makes a clever gift idea for anybody on your list.
For this concrete project, use a plastic cup or lid as a mold for the coasters. Once they're set, you can customize them with paint or concrete stain for added aesthetic appeal. Glue foam dots to the bottom to protect your surfaces from scratches.
DIY concrete planter
You can create concrete planters in any shape or style. They make perfect cache pots or containers for houseplants, succulents and air plants.
For a sleek, modern vibe, customize your concrete planters with metallic paint to balance out the rustic aesthetic. Use geometric shapes, stripes or polka dot patterns to make them truly unique.
DIY concrete votive candleholders
Custom candleholders for tea lights are simple to make and to customize. You can use a wide variety of containers for a mold, depending on what shape you'd like your candleholder to be. Individual cylinder candleholders can use plastic cups, while a single concrete piece for multiple candles might use a large rectangular box.
One inspiring idea is to use lace or mesh on the inside of your mold to add texture. Finish off your candleholders with metallic paint or keep them plain for a charming and rustic aesthetic.
DIY concrete stepping stones
Does your yard or garden need a pathway? Instead of spending a fortune on expensive flagstone, try making your own DIY stepping stones with concrete. Use a plastic tray or bucket lid to make quick and simple circular molds, or build wooden box molds for other shapes.
Add concrete stain for a colorful twist, or even glass beads and mortar for a whimsical pathway.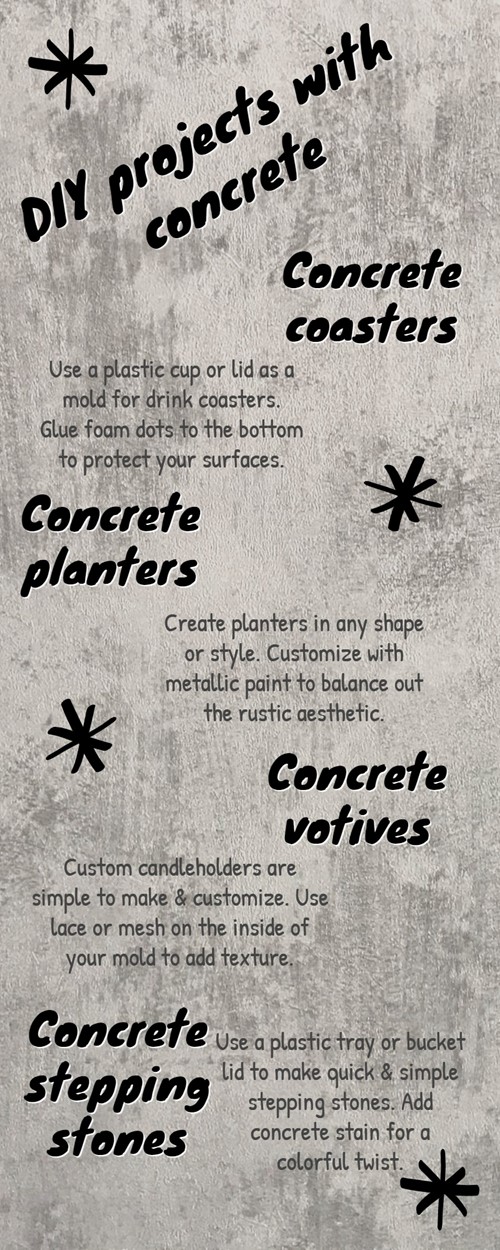 The list of possible DIY concrete projects is practically endless. For larger projects, consider making a concrete fire pit or your own concrete countertops. However, to get started, these ideas are perfect for exploring the possibilities of concrete crafting.